Ok, so I'm going to be running a game soon, and I've got a weird concept going. Really just looking for input, and this might take a bit, so...

It started when I found this map: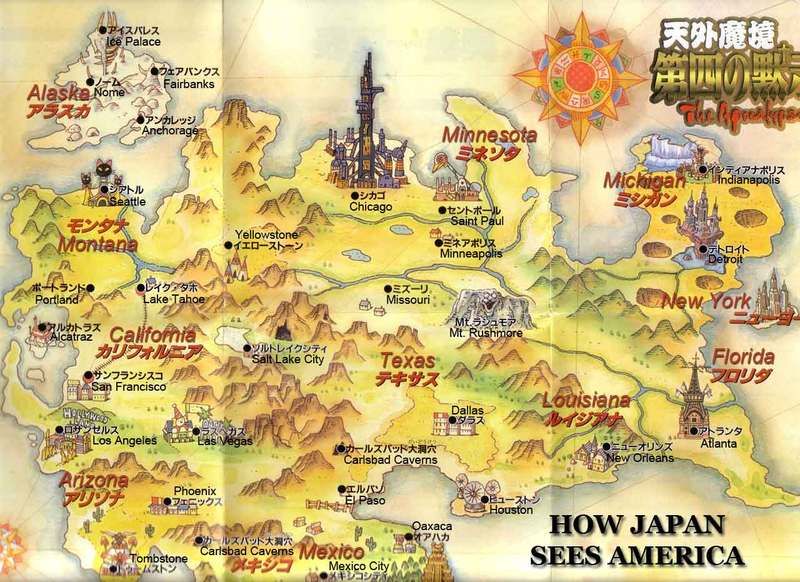 Now, regardless of the whole "How the Japanese view" thing, I think this map's pretty cool. So I'm going to try and run a fantasy Americana campaign, using this map as a general outline for the setting.

What I'm thinking is taking the general mythologies of different areas of the country and porting them into the game as flavor. So, Texas would have guns and a cowboy culture (I'm thinking something like Gilead in the Dark Tower series), the midwest would be an industrial culture (I'm thinking dwarves and men living together and battling elven plains druids or something). New York is going to basically be a Sharn clone. I could use suggestions and input on what you might think for some of this stuff.

There will be no central government for the entire continent. Instead, I'm going to break it up along the lines of the Nine Nations of North America.

Racially, I'm thinking that elves are going to fill in for Native Americans, dwarves for anywhere really industrious, halflings wherever they can fit, and possibly gnomes and other races wherever they might seem appropriate. I'm going to use the elves from Dark Sun (athas.org), but other than that, I have no idea.

I definitely want the classes, monsters, and equipment available to reflect the areas in the game. Perhaps a Texan gunmage (ala Iron Kingdoms), or Detroit artificers, etc. I know I'm definitely putting the Carnival from Scarred Lands (with all its evil-Mardi-Gras-voodoo wtf fluff) near or in New Orleans, and definitely putting some Oriental Adventures stuff along the West Coast. Any ideas?

Help would be massively appreciated, and if I put in enough work, I might just make a campaign setting out of this. The idea fascinates me.

So, what do you guys think?